You asked therefore I have provided! The kitchen Tower have been a complete game changer in how Dylan and I are able to interact with each other, he feels like a grown up being able to be get involved alongside some of the jobs I am doing. Even just filling the sink up with water for him to splash around in is a novelty at the moment so, while it lasts I'll be using this method as my secret weapon for a happily entertained little man until he twigs that really what I'm doing is keeping him under my watchful eye!
It's great being able to bond with Dylan this way! I'm teaching him new skills like washing his hands, seeing as it involves lots of splashing around in water you can imagine he loves it and so far, sees it as a game… If only I could figure out a way for easier nappy changes?!
To buy these Kitchen Towers ready made costs a ridiculous £40-£60 it's just crazy how much people will charge! I'm a bit of a Pinterest fan, I delved into Pinterest to find this amazing hack that costs a fraction of the price! You will have to do some DIY but I promise you, you will not be disappointed with the end result. I love it, Dylan loves it, you all love it so I'm now sharing with you just how to make one. You can easily find it on Pinterest, I simply can't take the credit for 'inventing' this product and their instructions may be better than mine but I'll do my best to make this easy to read and follow for the DIY enthusiasts amongst us.
WHAT YOU WILL NEED:
IKEA BEKVÄM step stool
x2 Wickes Studwork CLS Timber – 38 x 63mm x 2.4m (we used a saw workbench to cut the thickness in half making the thickness 19 mm).
Wood glue
Knotting Solution
Wood screws
Saw
Sandpaper 80msg
Polyfilla for any hairline cracks/filling in screw heads
Tape measure
Paint
Round wooden dowel rod
Optional – Hole Saw (personally I would use this)
STEP 1:
Build your IKEA Step stool, it'll look like this one below.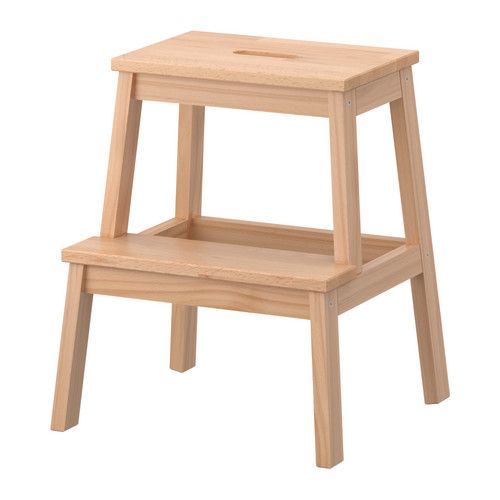 STEP 2:
Measure your kitchen counter and deduct the step stool height from the overall floor to worktop counter height, this will give you the height of the cage that will need to be cut from the timber.
You will need to measure and cut x4 lengths of timber at the required height for the cage.
For example: Our kitchen worktop height measures 92 cm (920 mm). The Step stool from IKEA measures in at 50 cm (500 mm) so,
92 cm – 50 cm = 42 cm (420 mm)
This will be the height of the 'cage' we will need to make that goes on top of the step stool for it to be the same height as the kitchen worktop. (I really hope I'm making sense).
STEP 3:
With the remaining timber measure and cut x8 brackets. These brackets will help to strengthen the framework. You will need to measure the size needed, six of the brackets will be fixed either side (they will be the shorter brackets) and two longer ones will be for the back of the frame. (we worked out all our measurements based on the thickness of wood we used.)
STEP 4:
Ok, so all the wood has been cut and is ready to assemble. You can now go ahead and start screwing the framework together. You will need to countersink where the screws will go otherwise the wood will just split! Basically, you're pre-drilling a little hole for your screws to go in.
STEP 5:
Now for the dowel, you can just measure the length you need for a tight fit and wood glue it into place however we (by 'we' I mean my dad) thought it would be safer to drill a hole through the front ends of the wood and wood glue the rod in place so that there was no chance of it popping off if it was lent on with too much weight. I would strongly suggest you look at drilling the circular holes either side and sliding the pole in place to then fix with strong wood glue using a Hole Saw.
We actually decided to do two rails one at the top which was fixed and one at the bottom which we could remove just as an added safety feature.
STEP 6:
Once you have your completed framework you can then fix it to the top of your IKEA step stool, It is much easier if you take off the 'lid' of your stool and fix it to the framework as it's much easier than trying to hold the cage and screw it down from underneath.
Once assembled make sure you go around and sand down all the edges so there are no splinters or sharp edges. My dad rounded off all the edges like an absolute angel!
STEP 7:
You've made it, now you will need to go around and fill in any hairline cracks and screw heads with either wood filler (I used Polyfilla from Homebase). While you wait for it to dry go around the framework and use the knotting solution to seal in any wood knots as they are oily and will eventually show through and ruin the paint. It doesn't take long to dry so put your feet up once you've had a break it should be ready to sand off and do the first coat of paint.
STEP 8:
Here's the fun bit! You will want to do a wash coat as soft woods likes to suck up a lot of paint! So, in a small pot (I used a small butter tub) put in 1:1 ratio of paint and water. paint the whole thing and leave for 10 mins to dry.
Now you can go over the whole lot with your chosen paint colour. You could have it as one block colour or get funky and paint it in all different kinds of colours!
We chose to paint ours in the same colour as the kitchen accent wall and painted the bar in a charcoal grey from a leftover sample pot we had from Next.
TA-DAH! you have yourself one little helper tower to begin creating some precious memories with your little ones and it's half the price!
If you make a Helper Tower I would love to see them! Pop them onto your Instagram page and use the Hashtag #helpertowermtt so I can double tap them all!
xx